---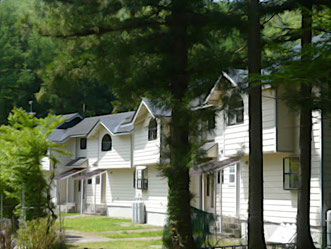 Indulge in the peace and serenity of refined elegance.
Experience the passage of time slowly in a tranquil cottage at the foot of the mountains.
Surrender yourself to nature and sink into a luxurious state of deep relaxation.
Hakuba Royal Cottage provides you with the opportunity to live your best resort life.
---
A chic dining space bathed in soft, natural sunlight.
A spacious 106m2 floor plan! Exclusive access to a member's only property!
The unit features 2 bedrooms and is suitable for couple's getaways or family vacations.
Enjoy the convenience of a system kitchen and full-size refrigerator stocked with cookware, dishware and utensils.
Check in
15:00 - 17:00
Check out 

10:00

Checkout time can be extended up until 12:00

*Extensions may not be granted however, depending on the status of upcoming reservations.

Number of buildings
5 buildings
Capacity
5 people (up to 6 people)
Room facilities
1F

Living

Dining

Kitchen

Toilet

 2F

Bedroom (Twin)

Bedroom (Double or Triple)

Bath & shower

Powder room

*If 6 people are used, 1 person will be able to use a futon. 

Equipment list

Microwave oven, Rice cooker, Kettle, Toaster, Refrigerator

A set of cooking utensils (Pot x 3, Frying pan, Kitchen knife, Cutting board, Ladle, etc.)

Set of tableware (4 types of plates, Bowl, Soup bowl, Spoon, Fork, Knife)

* There are no chopsticks.

System kitchen, Air conditioner (Living room + Bedroom), TV,

Toothbrush set, Shampoo & Conditioner, Body soap, Amenities, Bath towel (rental)

 

【Please note】

・Bath towels and amenity sets are provided for each adult.

・Those planning to cook will need to provide their own cooking utensils (chopsticks) and paper towels. 

・ In order to reduce the risk of fires and prevent unpleasant odors, we ask that you refrain from preparing deep-fried foods (tempura, etc.), grilled fish and other similar dishes. 

・ Pets are prohibited.
---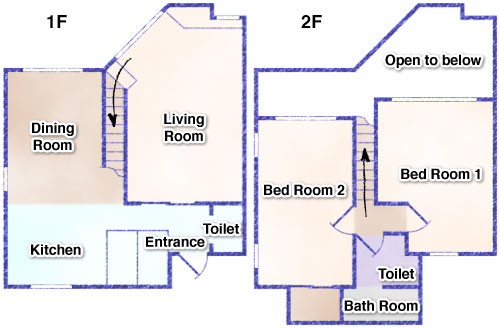 ---
Rental rates vary according to the season and are broken down into three main categories.
Please refer to the table below for fees and the dates during which they apply.
Charge classification
2 people
3 people
4 people
5 people
6 people

Family

2 parents and

2 children

A

JPY18,000

(JPY22,000)

JPY26,000

(JPY31,000)

JPY32,500
JPY38,500
JPY46,000
JPY30,000
B
JPY37,000
JPY39,000
JPY40,000
JPY47,000
JPY56,000
JPY37,000
C 
JPY29,000
JPY31,000
JPY35,000
JPY43,000
JPY51,000
JPY32,500
A:Days other than period B and period C from 2021/4/1 to 11/30
B:2021/8/7~8/16
C:2021/4/29~5/5、7/17~8/6、8/17~8/31
*1 ( ) Designates the rates for 3-day weekends and other consecutive holidays.
*2 Charges displayed are the per unit per night price (inclusive of taxes and service charges). 
*3 A separate JPY3,500 per day facility usage fee is required.
*4 For single-unit bookings of 6 guests, a futon will be provided for the sixth guest.
*5 "Family" rates are valid for bookings of 2 adults and 2 children.
Each additional child will incur an extra JPY2,500 charge; JPY1,200 for infants (0 to 1 year old). 
---
Feel like the owner of your own holiday home, at a great introductory rate!
Guests staying for 3 nights or more, are eligible to book their stay at the Category A price.
Plan Offered: 2021/4/29~5/5、7/17~8/6、8/17~8/31
---
Gather the girls together in our beautiful living room for a fun time filled with conversation and laughter!
This plan comes with 1 bottle* of wine to get the good times started. (*Half bottle for 2 guests) 
Plan Offered: 2021/4/1~11/30
---
For those 50 and older.
Rejuvenate your mind and body in warm, mineral-rich waters!
This plan comes with a voucher valid for use at any of Hakuba's public onsen (hot spring) facilities. (Please notify us of the number of people in your group when making a reservation.)
Plan Offered: 2021/9/1~11/30
---
Why not spend an entire season in Hakuba, savoring your favorite time of the year at the foot of the Northern Alps? Each season presents something special; the vibrant greens of spring's new foliage, refreshing mountain escapes in summer, amazing autumn colors and world-class skiing in winter. Hakuba is an ideal place to enjoy a plethora of leisure activities including hiking, sketching, photography, and hot spring hopping, and can also be an excellent base for trips to other area sightseeing spots (Kamikochi, Kurobe, Zenkoji, Karuizawa and more). Here you can relax, get away from the stresses of everyday life and heal your mind and body. 
| | | |
| --- | --- | --- |
| Usage period | Charge | Deposit deposit |
| 1 week (7 nights 8 days) | JPY110,000 | JPY30,000 |
| 2 weeks (14 nights 15 days) | JPY198,450 | JPY40,000 |
| 3 weeks (21 nights 22 days) | JPY286,650 | JPY50,000 |
| 1 month (30 nights 31 days) | JPY362,250 | JPY60,000 |
Plan Availability
*1 A separate JPY3,500 per day utility fee is required. 
*2 Charges displayed are the per unit price (up to 4 people).  We can also provide a rate for 5 people, so please inquire as necessary.
*3 For any increase in the number of nights and/or the number of guests, please consult with us about the rate.
*4 Customers will be held responsible for any damages to the room or its furnishings, and charged accordingly.
*5 Parking is available. (Please contact us if you require parking for multiple vehicles.)
*6 Pets are prohibited.
*7 Deposits will be refunded by bank transfer within one week. 
In the event of property damage, the deposit may be applied to costs incurred for repair. (See *4)
---
Hakuba Royal Cottage
399-9211
22203-17 Kamishiro, Hakuba-mura, Kitaazumi-gun, Nagano, Japan